BSNA represents manufacturers of infant milks and foods
BSNA is committed to supporting breastfeeding and increasing breastfeeding rates. We support the principles of the WHO code and government advice that breastfeeding provides the best source of nutrition for a baby. We provide balanced, evidence-based information to support the work of government, regulators and healthcare professionals.
Our members are committed to the highest safety standards and continued research to meet the needs of babies and toddlers.
Formula milk companies, health practitioners and government all have an important role to play in ensuring that the mothers and carers of formula fed babies receive adequate and appropriate information, while protecting the critical role of breastfeeding.
"BSNA and its members are dedicated to supporting the best nutrition for the healthy development of UK babies and toddlers."
---
Benefits of breastfeeding
Breastfeeding is the best way to feed a baby and is important for both mother and baby's health and wellbeing. The World Health Organisation recommends that babies are exclusively breastfed until six months of age, after which breastfeeding is complemented with the appropriate introduction of solid foods until two years of age.
Numerous studies have demonstrated the benefits of breastfeeding, in part due to the presence of bioactive components naturally present in breastmilk. There is also evidence of immediate benefits to the infant: breastfeeding offers protection against gastrointestinal and respiratory infection and reduces the risk of allergy. In the longer-term, breastfeeding has been associated with lower incidence of obesity, and therefore type 2 diabetes, lower cholesterol and blood pressure, and higher performance on intelligence tests. The maternal benefits of breastfeeding include a lower risk of breast and ovarian cancer and lower risk of type 2 diabetes and cardiovascular disease; this is due to a 're-set' in maternal metabolism.
Important notice: breastfeeding
Breastfeeding is best for babies as it contains exactly the right balance of nutrients for infants.
Breastfeeding provides many benefits to both mother and baby. As well as being hygienic, convenient and free, it has been shown to help prevent post-partum haemorrhages in mothers.
It is important that, in preparation for and during breastfeeding, mothers eat a healthy, balanced diet.
Combined breast and bottle feeding in the first weeks of life may reduce the supply of breastmilk, and reversing the decision not to breastfeed is difficult.
The social and financial implications of using a formula milk should be considered. Improper use of a formula milk or inappropriate food or feeding methods may present a health hazard.
If using a formula milk, parents should follow the manufacturer's instructions for use carefully – failure to follow the instructions may make babies ill.
A health care professional should always be consulted for advice about infant feeding.
---
Formula milks
There is no question that breastmilk provides the best possible nutrition for infants. However, when a mother cannot, or chooses not to, breastfeed, bottle feeding with a scientifically developed formula milk is the only suitable and safe alternative.
Formula milks have been specifically developed to contain all the ingredients needed to meet an infant's nutritional requirements, although they cannot provide all the protective factors (such as antibodies) found in breastmilk. They are safe, rigorously monitored and tightly regulated. BSNA's members provide a range of formula milks available to meet the nutritional requirements of healthy babies:
Infant formula - suitable from birth
Follow-on formula - to supplement the diet of babies aged between 6-12 months
Young child formula - to supplement the diet of children aged 1-3 years
Making up formula milks
All equipment used to feed babies must be sterilised. It is important that hands are thoroughly washed and surfaces cleaned before preparing a formula milk.
Formula feeds should be made up each time as required, using water that has boiled and been left to cool for no more than 30 minutes, so that it remains at a temperature of 70°C or above.
It is important to follow manufacturer's instructions carefully as to how much water and the amount of powder to use.
Feeds must be cooled before being given to babies and ideally served at around body temperature.
Further information, including a step-by-step guide to preparation is available on the NHS Choice website.
* Some formula milks, especially specialist formula milks, may require alternative preparation. Please always follow the manufacturer's instructions.
---
Infant formula
Infant formula is the only safe alternative to breastmilk for babies, and can be used from birth. A range of infant milks designed to meet the nutritional requirements of healthy babies is available in the UK.
Infant formula is available as a ready-to-feed liquid or powder. Manufacturer's instructions must always be followed when preparing formula, please see below for further information.
"The World Health Organisation (WHO) recognises that infant formula plays a role in providing infant nutrition."
Making an informed decision about which infant formula to use can be a difficult one. For more information about the different products, visit the Product Hub. For further support, more information is available on the NHS website.
---
Follow-on formula
Follow-on formula has been developed to meet the nutritional needs of infants from 6-12 months old as part of a mixed weaning diet. The composition of follow-on formula is similar to that of infant formula except for the addition of iron and vitamin D, which are important nutrients needed for the growth and development of young children and often lacking in children in Europe.
For more information about the different products, visit the Product Hub.
---
Young child formula
Young child formula (also known as 'growing-up milk' or 'toddler milk') has been developed to supplement the diet of toddlers aged 1-3 years. Similar to follow-on milk, it may be used as part of a mixed weaning diet based on normal family foods. Young child formula provides a source of important nutrients, such as riboflavin, calcium and iodine.
Compared with adults, young children have a much higher energy requirement relative to their body size, and it is essential products are tailored accordingly to maintain healthy growth.
For more information about the different products, visit the Product Hub.
---
Complementary (or weaning) foods
Complementary foods:
Comply with strict compositional criteria
Meet high standards of quality and safety
Comply with very strict pesticide controls
Contain no artificial additives and have controlled salt levels
Provide appropriate amounts of protein, carbohydrate, fat, vitamins and minerals
Provide appropriate textures to help the transition to family foods.
Weaning describes the period where an infant moves from a milk-based diet to one made up of a variety of foods and drinks that complement the milk feed. For this reason, foods consumed during weaning are often called 'complementary foods'.
Our members produce weaning and complementary foods that are specifically designed to meet the nutritional requirements of young children up to three years old. Complementary foods are carefully prepared to ensure they contain the right balance of protein, carbohydrates, vitamins and minerals. These foods are typically produced in portion sizes appropriate for young children and, if present at all, salt and sugar levels are kept to a minimum.
Different categories of prepared weaning foods meet the nutritional and developmental requirements of children at the different stages of weaning.
The UK's Department of Health recommends weaning at the age of six months. In Europe the European Food Safety Authority (EFSA) and the European Society for Paediatric Gastroenterology, Hepatology and Nutrition (ESPGHAN) suggest that, as each child is an individual, the appropriate age for weaning will vary. Both EFSA and ESPGHAN advise that weaning should not begin before 17 weeks of age and should begin no later than six months of age.
To find out more, read BSNA's Briefing Document on Complementary Foods:
Complementary Foods Briefing Document - July 2017
BSNA Infographic on Baby Foods - November 2017
---
Infant FSMPs
A range of special formulae are also available to meet the nutritional requirements of pre-term babies and those affected by allergies, metabolic and other conditions. These are known as infant foods for special medical purposes (iFSMP), and are medical foods. Most of these are available on prescription and should be used under the supervision of a healthcare professional. More information about iFSMPs can be found under Medical Foods.
To see information about the different products, visit the Product Hub.
---
Safety
Our members are committed to the highest safety standards and continued research to meet the needs of babies and toddlers.
Strict legislation controls the sourcing of ingredients, nutritional composition, microbiological standards, shelf-life, hazard analysis and critical control points (HACCP) and compliance procedures in place for infant nutrition.
---
Infant Nutrition Industry Code of Practice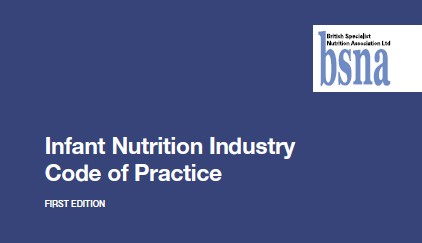 The Infant Nutrition Industry Code demonstrates the infant nutrition industry's commitment to the World Health Organisation's International Code of Marketing of Breastmilk Substitutes 1981 as implemented within the UK's specific legal and economic context.
Signatories to the code include Abbott Laboratories Ltd, Danone Early Life Nutrition, HiPP UK Ltd, Mead Johnson Nutrition, Nestlé Health Science, Nestlé Nutrition, Nutricia Advanced Medical Nutrition
INI Code – Case Reports
---
---