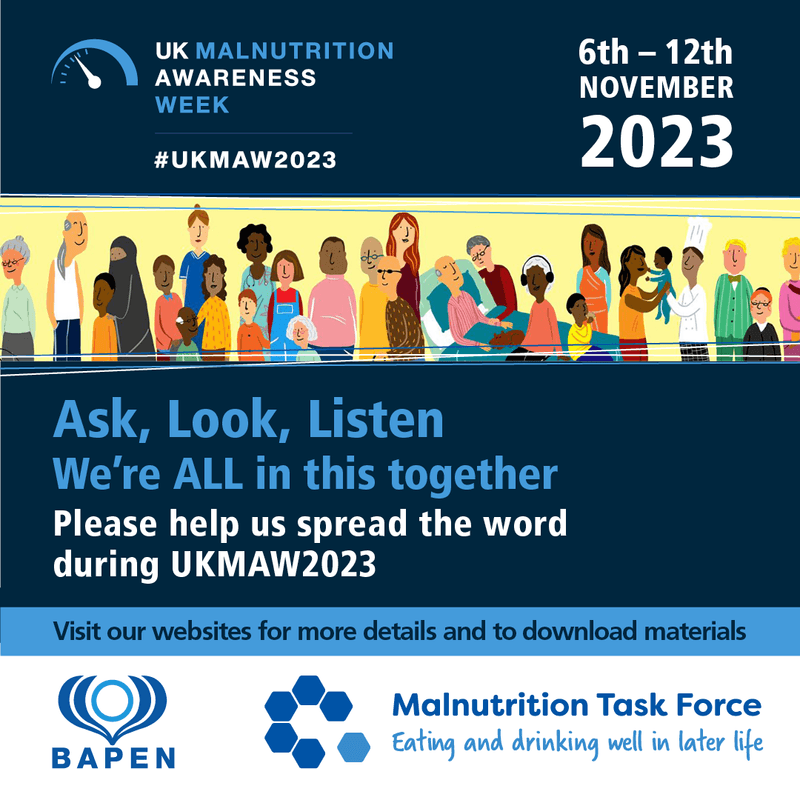 Posted on: November 06, 2023
Making disease-related malnutrition a priority for health and social care in the UK and worldwide – Malnutrition Awareness Week 2023
The challenge of malnutrition in the UK
Nutrition is fundamental to our existence and over the years awareness of the importance of good nutrition has increased, including the role nutrition can play in preventing and managing disease, disorders and medical conditions. High-quality nutritional care should be at the heart of patient care but it is still often overlooked.
Malnutrition is a serious problem in the UK today, with more than 3 million people currently estimated to be malnourished, or at risk of malnutrition and around 98% of whom are living outside the hospital setting.[1]
Unlike malnutrition arising from social or economic causes, disease-related malnutrition is a condition characterised by inadequate intake of energy, protein, and/or micronutrients, that leads to decreased muscle mass, reduced physical and mental function and poorer clinical outcomes from disease.[2] As a cause and consequence of illness, it is vital that patients at risk of malnutrition receive the adequate nutritional care that is critical for improving their overall health outcomes.
The effective management of malnutrition could also have a significant impact on the health economy as the annual health and social care costs associated with malnutrition are estimated at nearly £20 billion in England alone.[3]
As recognised by NHS England's Commissioning Guidance on Nutrition and Hydration[4], malnutrition can result in increased demand for GP services, both in- and out-of-hours, longer and more frequent hospital stays and decreased quality of life.[5] Malnutrition can affect all ages, but it is particularly prevalent in older age. Ageing can itself have a significant and adverse impact on nutritional status, exacerbating the decline in physiological and psychological functions that occur in later life.
Malnutrition caused by inadequate dietary intake in old age is a significant risk as it can result in numerous ailments, such as sarcopenia, reduced cognitive function, delayed wound healing, increased risk of falls, increased hospital admissions and readmissions, and increased mortality.[6]
What is involved in good nutritional care?
There are three key elements to providing good nutritional care to patients – firstly ensuring early identification of patients who may be malnourished or at risk of malnutrition, with proper screening to assess under nutrition, through the use of a validated nutritional screening tool. If a patient is malnourished or identified as at risk of malnutrition an appropriate care plan should be developed and delivered, including the use of food for special medical purposes (FSMPs), such as oral nutritional supplements (ONS) or tube feeds, or parenteral (intravenous) nutrition, where appropriate.
The NICE Quality Standard (QS24)[7], NICE Clinical Guidance (CG32)[8] and the Managing Adult Malnutrition in the Community pathway[9] all recommend a multidisciplinary approach to the identification of people at risk of malnutrition and provision of timely nutrition support.
Malnutrition Awareness Week 2023
This week marks Malnutrition Awareness Week 2023 (6-12 November), led by the Malnutrition Taskforce (MTF) (www.malnutritiontaskforce.org.uk ) and the British Association for Parenteral and Enteral Nutrition (BAPEN) (www.bapen.org.uk), promoting the message that it is easier to manage malnutrition (or dehydration) when it is spotted earlier. The campaign calls on everybody in health and care multidisciplinary teams (MDT) to spread the message about the importance of keeping nutritional care at the forefront of minds, and for people in the community to look out for family members, friends, neighbours, and colleagues.
At the global level, nutrition and medical expert organisations from around the world are uniting in an international effort for Malnutrition Awareness Week, to make everyone more aware of the impact of malnutrition on disease treatment and recovery, including patients, healthcare professionals from all disciplines and policy makers.
The European Society for Parenteral and Enteral Nutrition (ESPEN) (www.espen.org), with its 60 block-member national Clinical Nutrition Societies worldwide are committed to achieving the best possible nutritional care for every patient in every setting, and to reach this goal there is also a great need to increase awareness of the huge impact of malnutrition and the availability of safe and effective treatment through nutritional care.
BSNA and our member companies* support both the UK campaign and our colleagues at ESPEN and others backing the global Malnutrition Awareness Week.
As Director General of BSNA, Declan O'Brien supported the call for greater priority to be given to identifying and managing malnutrition, to mitigate the serious consequences for patients and reduce huge costs for health and social care, commenting:
"There is a wealth of evidence for effective and safe nutritional care to improve clinical outcomes for those who are malnourished or at risk of malnutrition, including NICE Guidelines in the UK, supporting quality of life and often lifesaving.
Food is a fundamental right for every human being and nutritional care is a human right for every patient who is unable to feed themselves effectively."
*BSNA Member companies: Abbott Nutrition, AYMES, Fresenius Kabi, Galen, Mead Johnson, Nestle Health Science, Nestle Nutrition, Nualtra, Nutricia, Nutrinovo, Vitaflo
[1] Stratton RJ, Smith T, and Gabe S. Managing malnutrition to improve lives and save money. BAPEN, 2018. Available from: https://www.bapen.org.uk/resou... [accessed October 2023]
[2] Norman K, Haß U, Pirlich M. Malnutrition in Older Adults-Recent Advances and Remaining Challenges. Nutrients. 2021 Aug 12;13(8):2764. doi: 10.3390/nu13082764. PMID: 34444924; PMCID: PMC8399049.
[3] Elia M. The cost of malnutrition in England and the potential cost savings from nutritional interventions A report from the Malnutrition Action Group of BAPEN and the National Institute for Health Research Southampton Biomedical Research Centre; 2015
[4] NHS England (2013). Guidance – Commissioning Excellent Nutrition and Hydration 2015 – 2018.Accessed online: <a href="http://www.england.nhs.uk/wp-content/uploads/2015/10/nut-hyd-guid.pdf
[5] Stratton RJ, et al (2004). Malnutrition in hospital outpatients and inpatients: prevalence, concurrent validity and ease of use of the 'malnutrition universal screening tool' ('MUST') for adults. Br J Nutr.; 92(5):799-808.

[6] Swiner, C. What to Know About Malnutrition in Older Adults. 2023. Available at: http://www.webmd.com/healthy-aging/what-to-know-about-malnutrition-in-older-adults

[7] NICE (2012). Quality Standard [QS24]. 2012. Nutrition Support in adults. Accessed online: http://www.nice.org.uk/guidance/qs24

[8] NICE (2006). Nutritional support for adults: oral nutrition support, enteral tube feeding and parenteral nutrition. Clinical guideline [CG32]

[9] Malnutrition Pathway. Managing Adult Malnutrition in the Community. 3rd Edition. 2021. https://www.malnutritionpathwa...
< Back to news entries