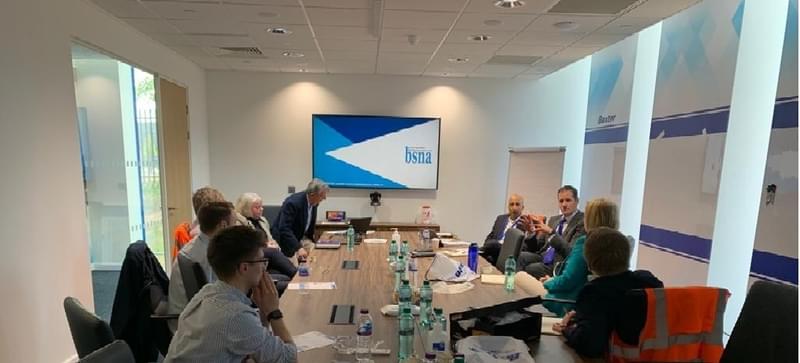 Posted on: May 13, 2022
A Parliamentary peek into the inner workings of Commercial Compounding manufacturing
On Friday 6 May, BSNA were delighted to welcome Foreign Secretary Rt Hon Elizabeth Truss MP to visit her local Commercial Compounding facility in Thetford, Norfolk, and to join with Mount Vernon Cancer Centre to welcome local MP David Simmonds on a tour of the hospital's pharmacy unit.
In Thetford, Ms Truss was able to see first-hand how solutions such as parenteral (intravenous) nutrition and chemotherapies are aseptically prepared at a commercial compounding facility, before being distributed to hospitals for use with patients on the ward.
BSNA also introduced Ms Truss to the wider commercial compounding sector – with BSNA members working as a valued partners to the NHS, supplying over 50% of aseptic compounding capacity in the UK.
The sector delivers approximately 4 million units of chemotherapy, parenteral nutrition and CIVAS[1] solutions annually.
At Mount Vernon Cancer Centre David Simmonds MP was taken on a tour of their Pharmacy Unit, to see the complex systems that are in place to store and administer the wide range of aseptically compounded systemic anticancer therapies used in the treatment or management of a range of solid cancers.
David heard about the strong partnership between the Centre and Baxter Healthcare as the commercial compounding company that supplies the Cancer Centre, and also about the Government's vision for the future of aseptic pharmacy, where the commercial compounding sector will continue to play a vital role as a partner to the NHS.
BSNA were delighted to have this opportunity to brief both Parliamentarians about the commercial compounding sector, the complex production process and how BSNA members work with NHS colleagues to ensure patients can access to the treatments they need.
[1] CIVAS can include any preparation of a drug, which needs to be manipulated aseptically e.g. reconstituted, diluted or added to an infusion
< Back to news entries