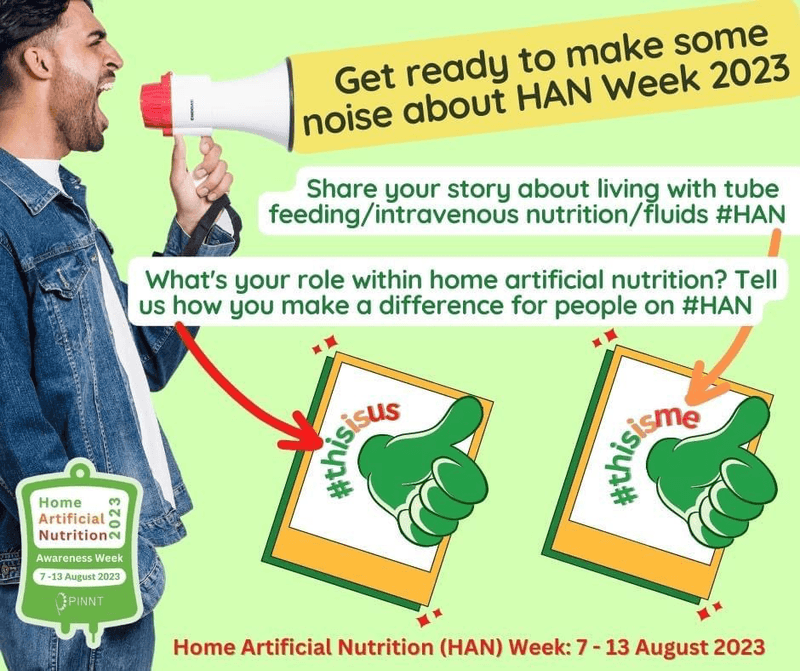 Posted on: August 08, 2023
'Value Share Engage' - Home Artificial Nutrition (HAN) Week 7-13 August
HAN Week 2023, run by the patient support group PINNT (Patients on Intravenous and Nasogastric Nutrition Treatment), is dedicated to raising awareness about essential treatments - covering parenteral nutrition, enteral nutrition, and oral nutritional supplements for people at home and in the community.
For those that need it, medical nutrition can be life changing, but for some people it can be lifesaving.
BSNA welcomes HAN Week 2023 as a valuable opportunity to continue to raise the understanding of the value of home-based nutritional support, and the role healthcare professionals have in supporting people to live their life beyond their home!
What do we mean by Home Artificial Nutrition?
There are a number of ways people can be provided with nutritional care 'at home' to suit their individual needs.
Parenteral nutrition
Parenteral nutrition is nutrition delivered directly into the veins for patients who have an inaccessible or non-functioning gastrointestinal system.
The National Institute for Health and Clinical Excellence (NICE) recommends that that health professionals should consider parenteral nutrition for patients who are malnourished or at risk of malnutrition and have an inadequate or unsafe oral and/or enteral nutritional intake, or a non-functional, inaccessible, or perforated (leaking) gastrointestinal tract.
Some patients may require parenteral nutrition on a long term basis and may be discharged from hospital on home parenteral nutrition. For those patients whose gastrointestinal function improves or recovers, parenteral nutrition may be gradually withdrawn, but only once adequate oral or enteral nutrition is tolerated, and nutritional status is stable.
Around 1,500-1,800 patients in the UK receive parenteral nutrition at home at any one time, improving their quality of life. Patients are able to leave hospital and receive life-saving nutrition treatment in the comfort of their own homes.
As parenteral nutrition goes directly into the bloodstream, the process of producing parenteral nutrition involves multiple, carefully controlled and regulated steps, including being produced aseptically to ensure no contamination. These steps are essential to ensure the quality of products is maintained during production, processing, delivery and administration, ensuring it is safe for the patient.
As well as producing parenteral nutrition, companies provide specialist nurses from the homecare nursing team to support the use of parenteral nutrition in the home.
Enteral tube feeding
Enteral tube feeding is required when nutritional requirements cannot be met by regular food intake. This can be a consequence of many clinical conditions, including illness, decreased appetite or difficulties in swallowing.
Enteral nutrition can be provided by tube feeding either via a naso-gastric tube placed through the nose, or a percutaneous endoscopic gastrostomy (PEG) tube directly into the stomach. Enteral nutrition requires a functioning, or at least a partially functioning, gut.
The choice of route depends on the clinical condition of the patient, their GI function, anatomy and access and expected duration of feeding. Whichever feeding tube is chosen, they all are important to enhance quality of life.
Oral nutritional supplements
Oral nutritional supplements (ONS) are specialised foods designed to help meet the nutritional or dietary needs of patients living with a disease, disorder or medical condition who are temporarily or permanently unable to achieve an adequate nutritional intake from normal foods alone and malnourished or at risk of malnutrition.
Patients requiring ONS range from those who are critically ill, to those with inherited genetic disorders to those with chronic illnesses, including cancer, kidney failure, cystic fibrosis, diabetes, difficulties with swallowing, loss of muscle mass and respiratory disease.
ONS can be an essential part of medical management and may be required either for life or for short periods of time, for example in patients recovering from a stroke or surgery. In these cases, they help to manage malnutrition, or guard against it, until a normal diet can be resumed.
The Managing Adult Malnutrition in the Community pathway is evidence-based guidance developed by healthcare professionals and is supported by organisations such as the Royal College of General Practitioners (RCGP), the Royal College of Nursing (RCN) and the British Dietetic Association (BDA). It clearly sets out how ONS should be prescribed and used alongside food to manage disease-related malnutrition. It also provides guidance on how to monitor use of ONS and when to discontinue it.
BSNA Members produce medical nutrition (parenteral nutrition, enteral tube feeds and ONS) which can be used from birth to older age. Medical nutrition is highly regulated and should always be used under medical supervision.
For many patients, they wouldn't have their quality of life without their feed. Medical nutrition makes it possible for people who are not able to eat enough orally to receive appropriate access to the nutrition they need to live.
To find out more information about HAN Week 2023, please visit www.pinnt.com
< Back to blog entries